I'm so excited to share a project I've been secretly working on these last few months! While I have sewn for years, it wasn't until I discovered Oliver+S patterns after the birth of my firstborn nine+ years ago that I felt like I was actually improving – these patterns actually taught you how to sew! So it was a little bit like coming full circle when I was invited to test for Liesl + Co a few months ago (Oliver+S is the parent company – Liesl & Co is their adults line).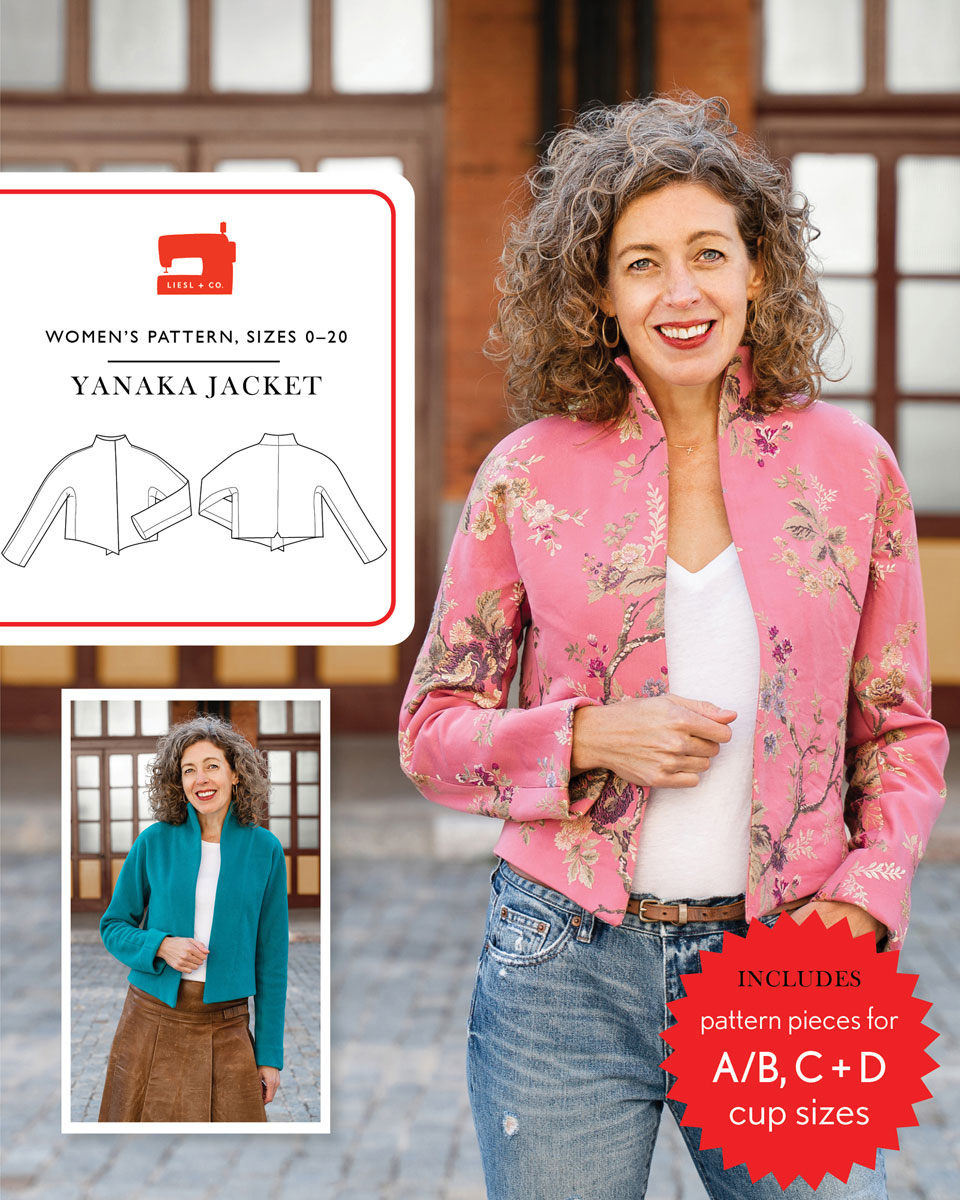 The Yanaka Jacket really caught my eye – I just loved the cut of it! The jacket is a cross between cardigan and blazer, is unlined, cropped, semi-fitted, has cut-on sleeves, sleeve gussets, and a standup collar.
Construction is pretty quick and not hard – the most time consuming part was finishing the seams (I did bound seams). Some hand stitching is also required along the hemline. One thing I'd never done before — the pattern suggests adding a length of chain across the bottom of the hemline to improve the garment drape. I found this in the jewelry section at either Michaels or Hobby Lobby.
I made my first jacket (the gray one) according to measurements, blending from my bust (0) to my waist (4) and hip (8). I didn't add any length to my first one, but I think with the bulky fabric and possibly some shrinkage from my iron (forgot to pre-steam the fabric), it ended up quite short in the torso. I think it will work fine with a dress but it's a little short with jeans. For my second one (cream), I decided to use a size 4 hip instead and added 2″ length. This version I think worked a lot better. (For reference, I'm almost 5'8″).
I bought both my jacket fabrics from Fabric Mart during one of their sales. The black/gray is a heavy wool/poly twill weave coating, and the cream is a Michael Kors Cashmere Brushed Coating. Ordering online can be a tricky thing, and while the cashmere is super soft on the outside, I discovered it was really rough on the inside. Sigh. This was not going to work for an unlined coat!! In the end, I decided to use some leftover flannel (from my girls' Christmas dresses last year), spray basting it to the back of the cashmere before sewing it as normal. I actually really love the effect of the two fabrics together and am looking forward to the added warmth too.
Yanaka is available in both PDF and paper formats. The sizing runs from 0 to 20 (32.5″ – 46″ bust), includes cup sizes (A-D, and C-D include bust darts), and most of the sizes can be made with just 2 yards of 58″ fabric! Yanaka is also part of a collection – you can read Liesl's writeup on each new pattern on the Oliver+S blog. There's also a video about styling and more details on Yanaka over here.
Updated: check out the complete tester roundup on the Oliver+S Blog!
Overall, this is a great pattern to have in your collection – it's a fairly easy sew and with so many fabric choices (you could use denim, twill, coating, jacquard, canvas, brocade, etc!), it can be quite a versatile piece in your wardrobe.
Disclosure: I received this pattern complimentary in exchange for testing it. Review and promotion not required.