This post contains affiliate links that help support my blog at no cost to you!
I took a little bit of time in the last few weeks to sew for me! A pattern test for Itch to Stitch never fails to get me motivated to build out my wardrobe a bit more!
The Antrim Dress is a beautiful fit and flare dress with "surplice" (faux wrap) bodice. It comes with cup sizes, pockets, and extended sizing (now from 00 – 40). The half circle skirt hits below the knees, but it's easy to shorten or lengthen too.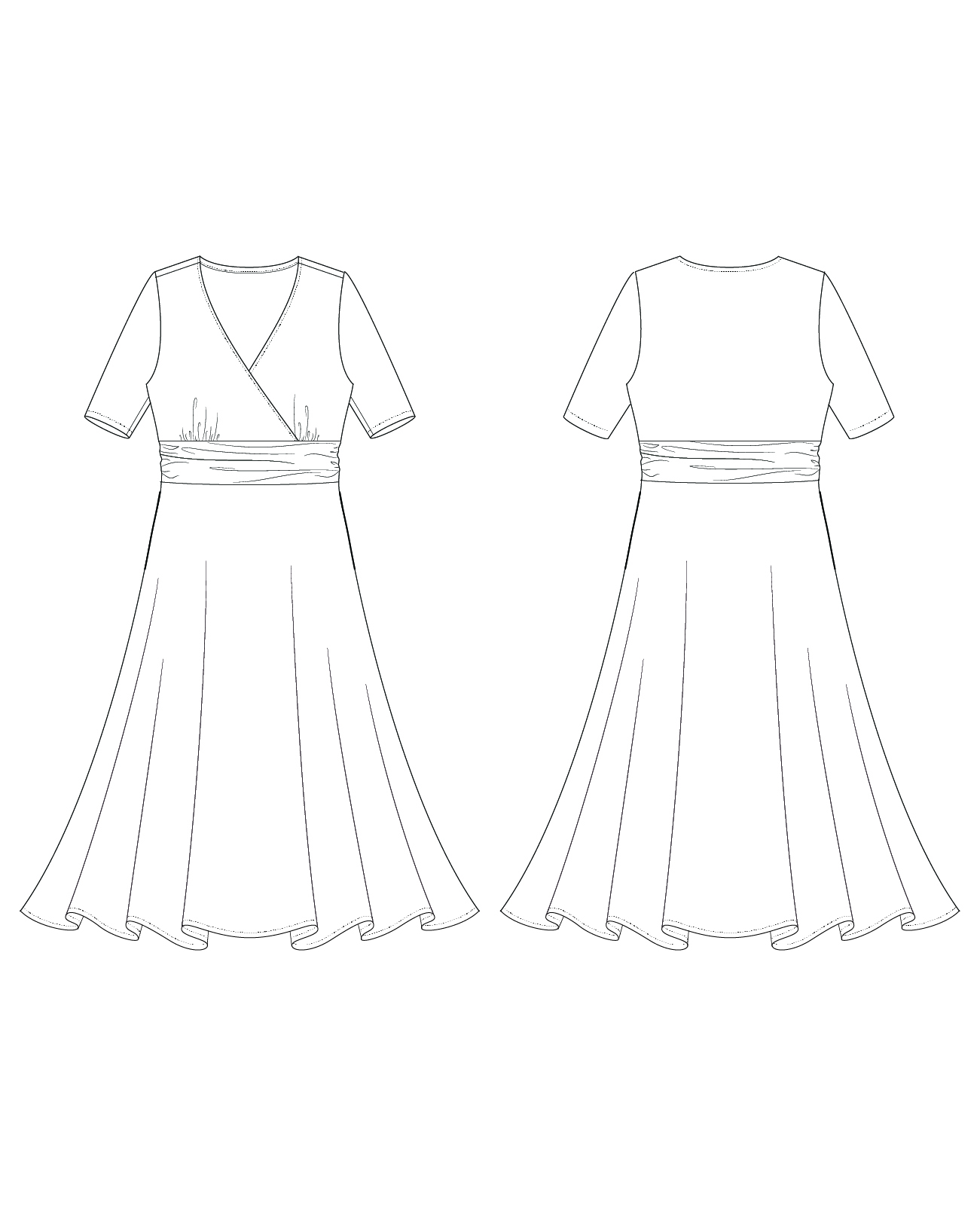 The dress is rated as intermediate – I initially considered it beginner+, but it really could go either way. I have a lot of experience sewing knits now, so that's probably why I went lower. But, depending on your body type, you may have to do a little extra fitting, so from that perspective, intermediate is appropriate.
For this project, I teamed up with Simply By Ti – her navy Double Brushed Polyester was perfect for this dress! I can't wait to get lots of wear out of this one this coming fall!
My fitting process, explained
Unfortunately I couldn't fit this pattern "out of the box". I did make a muslin first though, and then Kennis (the designer) helped me work out what adjustments I needed to make.
First, she suggested I do a small bust adjustment in addition to the A cup that I'd already done. To do that, she had me remove the pleats under the bust by recutting the front bodice to be the same width as the waistband between the notches.
After doing this, it fit a whole lot better but was still a little gapey. I rectified that by shortening the length along the bottom of the bodice a bit. Eventually it worked, but then after it was done, I realized the waistband had got weirdly bunchy. Hrm.
Well, my dress is definitely wearable, but as I have stared at it a while longer, I have some realizations:
I actually need to be shortening things above my waist. Since I am 5'8″, I never consider shortening things and usually add length! But because my bust is so small, I need the pleats to come up higher for a flattering fit. (This realization I think, will solve my fit issues on the ITS Chai, Kathryn top, and Dana Point Top too).
THEN, I'll need to add length to the waistband.
I don't know why it's taken this long for me to work this out, but it's seriously a lightbulb moment for me!
Tips
I highly suggest making a muslin for this dress, just for the bodice and waistband.
I also recommend using clear elastic (I use Framillon) in the lower edge of the bodice to prevent it from stretching out. I also used clear elastic to gather the waistband. To do this I:
Cut the clear elastic to the same length as the waistband lining. Put both outer waistbands together and stitch the elastic down both at the same time, stretching it to fit.
Stack the two lining waistbands on top of the two outer waistbands. Serge the edges.
Flip the outermost lining piece around – now your side seams will be enclosed in the waistband.
Sale!
The Itch to Stitch Antrim Dress is on sale for the release week! Get it for 20% off (no code required), and save even more using the bundle discounts too.
Disclaimer: I received this pattern in exchange for testing it. Opinions are 100% my own.