This post contains affiliate links that help support my blog at no additional cost to you.
I thought I'd do a mini series taking a look at the curriculums we use around here and what I love about them. First up: Reading and Spelling!
Backstory
When my first born was in preschool, I fumbled my way through teaching her the letter sounds and then when she was in kindergarten, I started teaching her to read using the Usborne First Readers and Explode the Code. I really liked the Usborne readers because they're in color and are designed so that you read a page, and then the child reads the next page.
My daughter did ok with these books, but I still felt like I was missing a teaching piece (she hated handwriting and the Explode the Code books required you to learn handwriting, spelling and reading all at once, and this just wasn't working for us). A friend of mine showed me how she used All About Spelling with her son (she taught him reading just with readers such as Dick & Jane books), and so I jumped on that.
Now, in hindsight I did do things a bit backwards and so when my son was ready to start reading, I bought a second hand copy of All About Reading Level 1 from another friend who's son had finished it.
All About Learning Overview
Both AAR and AAS are based on the Orton-Gillingham approach (OG is actually used by a number of schools in their reading intervention programs). AAL follows this method with flash cards, hearing the sounds and words, using tiles to move the letters into place, writing the letters in rice/sand/on a whiteboard, and having other games to help reinforce the lessons.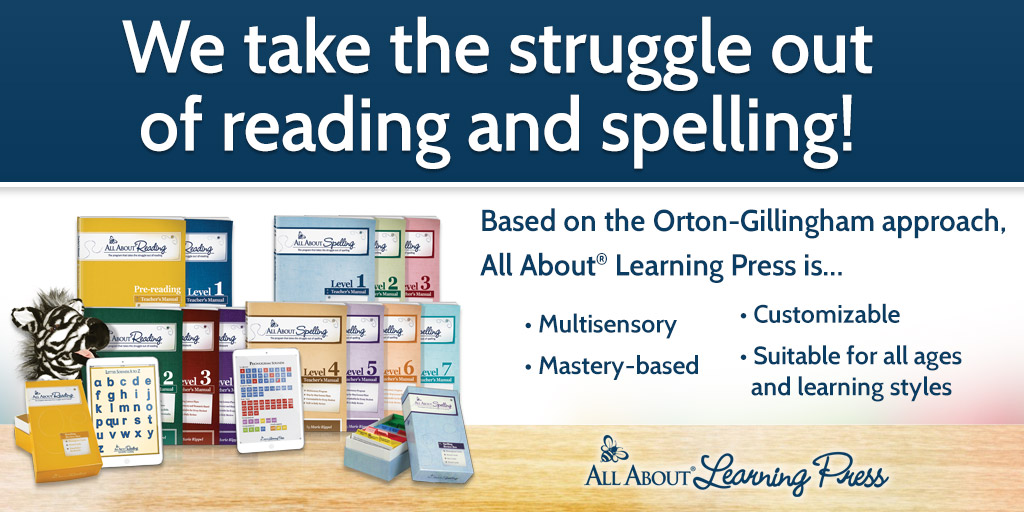 All About Learning is just for reading and spelling, so you do still need to pick your own handwriting, comprehension and grammar programs to make a well rounded language arts curriculum.
As a parent, I have learned SO MUCH from teaching my children with this method – learning all these spelling and reading rules that I had no idea existed!
All About Reading
We have the older version of All About Reading which is in black and white (the new version has a few more lessons and is in full color). Level 1 comes with a Teacher Manual, Student Workbook, 3 hard cover readers, Flash Cards, and seperately you'll need a Reading Interactive Kit that includes a storage box and the letter tiles (or the letter tile app) which is reused in the upper levels and with AAS. If you get the letter tiles, you'll also need a 24″ x 36″ magnetic whiteboard to store them on (Costco is the cheapest place for that).
While the student workbook is intended as a consumable (i.e., used once and thrown away), I have not had my children color or draw on them so we can reuse them.
My son wasn't *quite* ready for level 1 when we started out, but we took it very slowly and now that the Kindergarten year is basically over, we just have 2 lessons left in the book AND he's reading books with words that we haven't yet started learning! It's amazing to see how he has developed and how confident he is at reading – being willing to sound things out rather than just skipping over words he doesn't know.
He'll start first grade in September, so once we move on to AAR Level 2, I'll also add in All About Spelling Level 1. (This is the progression that All About Learning recommends).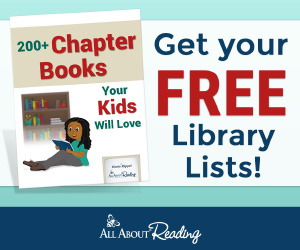 AAR Tips!
At the beginning of the year, I sort out all the workbook pages into clear pockets inside a 1″ binder. Some of them required cutting and stapling. Since I bought mine second hand, this was already done for me! So you may want to do this step through the summer, or you can do it a few weeks at a time through the school year.
I like to keep sticky notes as bookmarks in the workbook binder, teacher guide and readers. We kept losing paper bookmarks so I have found sticky notes have been a great time saver.
Try to do reading daily! In most cases we spend a few days on each lesson, and sometimes a week or more (particularly in the earlier lessons).
Keep it fun: my son is OBSESSED with Lego and he drags it with him wherever he goes. So, we incorporate Lego into reading lessons – I might space all the flash cards over the table and put a Lego piece on each one and then he gets to build something as he collects each card and reads it correctly, or we will use the lego pieces as tokens in a bingo game (some of the worksheets are bingo cards). Sometimes I'll hide the cards around the house and have him find them and say the word (make sure you count how many cards you hide!!!!). All About Learning also has tons of free resources on their website that you can print out and laminate too (well, laminating is optional, but laminating all.the.things. is kinda a homeschool mom's rite of passage, yes? haha).
All About Spelling
All About Spelling just comes with a teacher guide and flash cards (you'll use the same tiles as AAR and you may also want to buy a separate AAS card storage box). Once you get into Level 2 and above, there are a couple of extra student pages that I keep all together in a single 1″ binder. So far I've got level 2 and 3 in one binder and I think I'll have plenty of room for the next levels in there too.
There are fewer lessons in AAS compared to AAR and some of these lessons can take a few weeks to get through. Most take us a week, but some of the early lessons in Level 1 may only take a couple of days. It really depends on your kid and where they're at.
My daughter just finished 2nd grade at home after having done first grade at public school. She learned to read quite fluently at school, so I just had her continue reading books at/above her reading level this past year and had her do All About Spelling Level 1 (again), Level 2, and towards the end of the year we moved onto Level 3.
Miss 8 has a marvelous memory, but possibly has ADHD so while she focuses on handwriting (still a big challenge for her), her spelling suffers (and vice versa). I have found that the best thing for her has been consistency – ever since the covid lockdown, we've done spelling almost every single day and it's made a HUGE difference! And it's now her favorite subject!
AAS Tips!
Doing spelling daily has been a game changer here! Right now, my goal has been to do 3-4 days of teaching a single lesson and on the 5th day giving her a crossword puzzle, word search, or word jumble to solve. You can easily build these using this free puzzle building tool.
I found we had some words that she just was forgetting how to spell. So for these I write them up on a faux whiteboard (a clear pocket from the Target dollar section with a white sheet of paper in it) that I keep hanging on the wall. I test her on these words each day and when she gets it right 3 days in a row, we ceremoniously remove it from the whiteboard. She loves it and gets super excited when she "beats the board" – wiping them away or getting all her weekly spelling words right.
Reluctant writer? Change up the method! I try to switch how we write things down each day. On day 1, she uses the app. Day 2 she uses a whiteboard with marker. Day 3 she writes the words in her book with a favorite pen (she has many colors and so I have had to enforce a rule of 1 pen per sentence because otherwise it was taking FOREVER to get a single sentence written down!!!
Free Stuff! AAL have a number of freebies on their website including games and posters. I've laminated the posters and put them on the wall near our school area (otherwise known as my dining room). I'm actually amazed at how often my kids read these posters and remember what's on them!
Questions? Thoughts?
I'd love to hear any questions you might have about this program and blog post suggestions!
P.S. All About Learning do not run sales but you can find the curriculum at other homeschool stores for the same price but with free shipping. There are, however, two big plusses to buying directly from All About Learning: You'll get a 1 year return period (especially helpful if this is your first time using the curriculum), and you can make a request for "box art" in the comments! When I placed my very first order, I had one child into trains, and another into princesses, so I received a box with a train and princess drawn on with a Sharpie. More recently, I've seen even more impressive artwork with colored Sharpies instead in the All About Learning Facebook Group!
Disclaimer: I am an affiliate for All About Learning and will receive a small commission (at no extra cost to you) on any purchase you make using my referral links. Opinions are 100% my own.